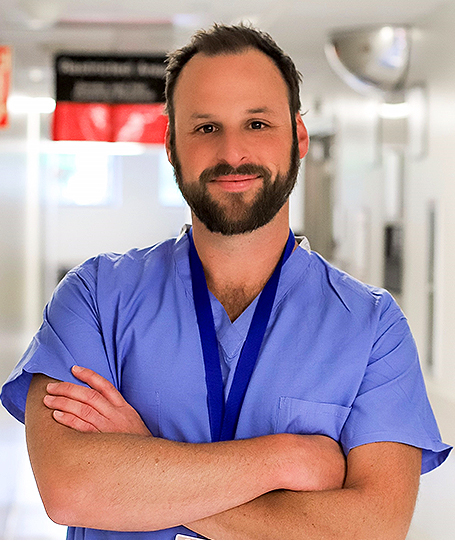 Daniel Lerman, MD is a board-certified, fellowship-trained orthopedic surgeon who specializes in the care of adult and pediatric patients with benign and malignant tumors of the bone and soft tissue. His clinical expertise includes limb-sparing surgery and biological reconstructive procedures for sarcoma, the treatment of advanced benign musculoskeletal conditions, such as bone and soft tissue tumors, avascular necrosis, osteoarthritis, and complex total joint reconstructions.
Dr. Lerman earned his medical degree at the University of Maryland School of Medicine. He completed his residency in orthopedic surgery at NYU Hospital for Joint Diseases and two fellowships at the Huntsman Cancer Institute at the University of Utah in basic science oncology research and sarcoma surgery. His research interests include the investigation of novel targeted therapeutics for sarcoma and optimization of functional outcomes following surgical intervention.
He has authored numerous peer-reviewed scientific articles, review articles and book chapters on the topics of sarcoma therapy and metastatic bone disease. He has presented his research at national and international conferences. Dr. Lerman is a Diplomat of the American Board of Orthopaedic Surgery and is a member of the American Academy of Orthopaedic Surgeons, Musculoskeletal Tumor Society, Connective Tissue Oncology Society and American Society of Clinical Oncology. Reviews scientific articles/manuscrsipt for Journal of Surgical Oncology and Clinical Orthopaedics and Related Research.
Prior to moving to Colorado, Dr. Lerman was named a "Top Doctor" for orthopaedic oncology by Baltimore magazine.
Orthopedic Oncology
Limb sparing surgery
Sarcoma surgery
Metastatic bone Disease
Complex hip Reconstructions
Complex knee reconstructions
Osseointegration prosthesis for amputees
Undergraduate Degree: Weslyan University - 2003
Graduate Degree: University of Maryland - School of Medicine - 2008
Residency: New York University Hospital for Joint Diseases - 2013
Fellowship: Huntsman Cancer Institute at University of Utah - 2014
Fellowship: Huntsman Cancer Institute at University of Utah - 2015



Katherine Senkosky, PA-C

Physician Assistant




Breann Perez

Medical Assistant




Mary McCormick

Sarcoma Nurse Navigator




Jennifer Flores

Limb Preservation Navigator




Elizabeth Adle

Joint Replacement Nurse